Pioneer Hall Museum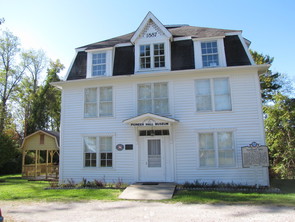 Pioneer Hall, the second Academy building to be constructed, was completed in 1889. Having served at various times as a dormitory, classrooms, a library, and offices, it stands today to tell the story of the Pleasant Hill Academy and the community, including the health facilities from which evolved the Cumberland Medical Center. Exhibits, which represent the lifestyle of early Cumberland County, include a country store, dormitory rooms, the principal's office, the tools of health care and the arts and crafts of the period.
Pioneer Hall was placed on the National Register of Historic Places in 1978.
---
Dr. May Cravath Wharton, Alice Adshead, R.N., and Elizabeth Fletcher established the Uplands Cumberland Mountain Sanitarium (also known as Cumberland General Hospital) and Van Dyck House, a tuberculosis sanitarium, in Pleasant Hill. Their efforts grew into the current Cumberland Medical Center in Crossville, TN. A room in Pioneer Hall Museum honors these women and their work in providing health care for the people of the Cumberland Plateau.



Visit Pioneer Hall Museum This Summer!
May through October
Open on Wednesdays from 10 a.m. until 4 p.m.
And on Sundays from 2 p.m. until 5 p.m.
A Time to Give, An Opportunity to Give
After 130 years of use and weathering, Pioneer Hall is in need of repairs. Our biggest need at this time is the replacement of all 72 windows. After doing a careful study and getting professional advice and several estimates, the board of the Pleasant Hill Historical Society of the Cumberlands chose Lowe's Pella vinyl windows to be installed. Windows have low-
E and Argon gas. Each window will cost $500.
We have applied for grants, but
your help is needed
. A $500 tax-exempt gift will purchase one window. Donors' names will be on a plaque in Pioneer Hall Museum. Any donation amount will be greatly appreciated. Please help keep Pleasant Hill history alive.
Make your check payable to Pleasant Hill Historical Society of the Cumberlands and mail to PO Box 264, Pleasant Hill, TN 38578.
Thank you in advance for your help.
Board of Directors
Jim Blalock, President Ann Schoup
Don Dowdy, Vice President Beecher Frazier, Jr.
Pat Robbennolt, Secretary Al Dwenger
Larry Burch, Treasurer George Hartz
Sharon Weible, Curator Ed Schneider
Paula Blalock