Pioneer Hall Museum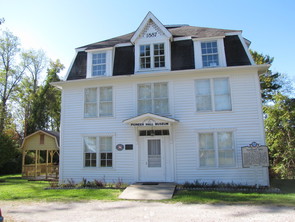 Pioneer Hall, the second Academy building to be constructed, was completed in 1887. Having served at various times as a dormitory, classrooms, a library, and offices, it stands today to tell the story of the Pleasant Hill Academy and the community, including the health facilities from which evolved the Cumberland Medical Center. Exhibits, which represent the lifestyle of early Cumberland County, include a country store, dormitory rooms, the principal's office, the tools of health care and the arts and crafts of the period.
Pioneer Hall was placed on the National Register of Historic Places in 1978.
---
Dr. May Cravath Wharton, Alice Adshead, R.N., and Elizabeth Fletcher established the Uplands Cumberland Mountain Sanitarium (also known as Cumberland General Hospital) and Van Dyck House, a tuberculosis sanitarium, in Pleasant Hill. Their efforts grew into the current Cumberland Medical Center in Crossville, TN. A room in Pioneer Hall Museum honors these women and their work in providing health care for the people of the Cumberland Plateau.



Work Day
Saturday, April 22 at 8 a.m.
Come prepared to clean the grounds and the inside of Pioneer Hall Museum

Opening Reception
Saturday, April 29 2-4 p.m.
A reception honoring the families interviewed for the 2017 special exhibit "Remembering Pleasant Hill"

Pioneer Hall Museum will open for the 2017 season on Wednesday, May 3

Birthday Celebration of the Paul Revere Bell

Sunday, May 21 at 3 p.m.
The weekend of May 19-21, 2017, we will be celebrating the 200th birthday of the Paul Revere Bell that stands beside Pioneer Hall Museum.
During the previous week, the boys and girls of Pleasant Hill Elementary School will be visiting the museum and learning about the buildings that once made up Pleasant Hill Academy. Many of those buildings once stood where their school is now.

Teachers Jamie Atkinson, Brian Conatser, Pam Taylor, and Charlotte Griffin have been working with folk from the museum to plan activities. Ms. Griffin and the choir are working on an original song for the school assembly on May 19.

Don Nelson and Ron Riggs will be portraying Paul Revere at both the school assembly and the Society Annual Meeting

This is Pleasant Hill Historical Society of the Cumberlands' annual meeting and election of officers and board members